In addition, we operate a unique User Portal. This makes important services available to you around the clock: sim-ticket.de
With a ticket system, you can activate your SIM cards and, in the case of prepaid cards, also order the reloading of credit.
You can view and download your invoices and itemized bills at any time on a daily basis.
You will receive automatic alerts for your Iridium or Inmarsat prepaid card via email 10 days and 3 days before the end of validity.
Define an automatic recharge for your Iridium or Inmarsat prepaid card when the balance falls below a certain limit.
Even if there is only little balance left on your Iridium or Inmarsat prepaid card, you will receive an automatic alert by email.
You can define a certain budget for your Inmarsat GSPS or Iridium contract cards. When the defined limit is reached, you will receive a notifi­cation and if desired, the card will be paused for the current month to protect you from high costs.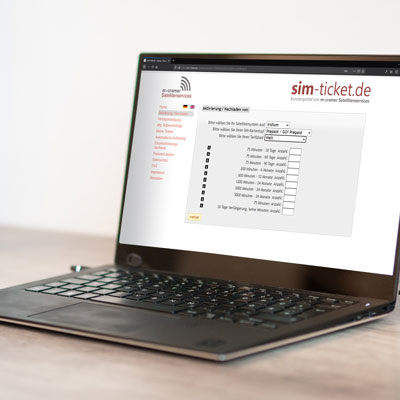 User Portal sim-ticket.de